What's In Your Closet?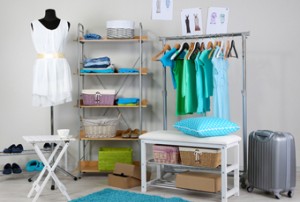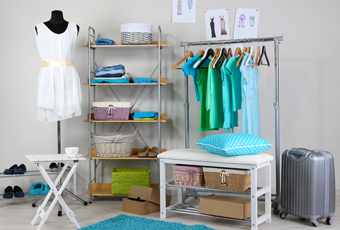 Why spend time in the store when you can go shop­ping in your clos­et! Let go of what no longer works and start from there:
A Wardrobe Style/Closet Makeover helps you take the guessing out of dressing! Together we will:
make new out­fits from clothes you already have.
get a list of "must buys" to make your wardrobe com­plete for every occa­sion.
cre­ate "style words" to use when edit­ing your clos­et.
learn sim­ple tech­niques to enhance your body's design pat­tern.
cre­ate strate­gies to achieve your goals.
When we are done you will like­ly have few­er items in your clos­et, but more out­fits than ever. You will be stocked with "go-to" out­fits and have the con­fi­dence that they work with your body design and why. Bet­ter yet, you will know how to con­tin­ue to build your wardrobe with few­er mis­takes and with greater sat­is­fac­tion, sav­ing both time and mon­ey.
You don't have to go it alone– I can help!
Call (650) 400‑2230, or click here to con­tact Mary Lou.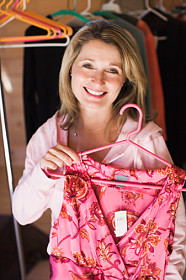 Hi Mary Lou,

I'm so glad I splurged on the closet/wardrobe con­sul­ta­tion. I went out and shopped (lit­er­al­ly until I dropped). Unfor­tu­nate­ly, most of my mod­ule col­ors are more fall col­ors not the pas­tels and flo­rals that are out now. Although, I think I may have some luck with the 'cabi white' or light blush col­or. I ordered the orange Lon­don Fog jack­et, pur­chased high-qual­i­ty nude pumps, leop­ard walk­ing shoes), brown walk­ing shoes, and 2 pairs of exer­cise pants that can pass as my lounge­ware. Again, no luck with pure brown, but I did find some put­ty col­or that are more tan than grey. Cre­at­ing a wardrobe is not for the faint of heart.

This week­end my daugh­ter and I are going shop­ping at a dif­fer­ent mall, and I'm hop­ing to find a pair of slacks (or 2) and maybe some tops. I'm still on the look­out for jew­el­ry the col­or of my eye rim. That should exhaust my spring bud­get. I'm look­ing for­ward to try­ing it all out on my New Orleans trip in a few weeks. I'll keep you post­ed.

Thanks again for all your help.

Best,
Eliz­a­beth Trec­ca­se
A Clean Slate
www.acleanslate4u.com