Take the Guessing Out of Dressing!
Mastering the Art of Illusion Dressing:
The A, B, C, D,
&

E of Style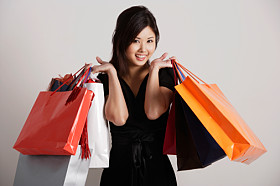 See your­self in a whole new light. Work­ing with your own clothes, you'll learn to choose your col­ors, appre­ci­ate your shape and define your style. Learn how to cre­ate an inte­grat­ed wardrobe so you can effort­less­ly con­jure the looks you want–and you'll find your­self look­ing fab­u­lous every­where you go! This all day work­shop pro­vides the build­ing blocks of per­son­al design to help you cre­ate a Sig­na­ture Style that is unique­ly you!

A: Attitude and Appreciation
What makes a woman/man attrac­tive?
How one cre­ates the illu­sion of per­fect pro­por­tion.
Wardrobe man­age­ment demon­stra­tion.
B: Balance
Cre­at­ing mas­ter­ful illu­sions with clothes.
Trans­form­ing your fig­ure "flaws".
Choos­ing the right necklines/collars
C: Color
Phi­los­o­phy of the col­or palette and how to make col­or work for you.
Choos­ing pat­terns and tex­tures.
How much col­or is right for you?
D: Develop Your Personal Style
Choos­ing the right acces­sories based on your inher­ent design.
Putting clothes togeth­er – what works and why.
Learn to man­age your wardrobe… Bring in clothes and ques­tions.
E: Express your new self!
Dress in your favorite new look!
Show off what you have learned. (student's wardrobe demon­stra­tions).
Bring friends and guests.
In this all-day work­shop, Col­or and Style Con­sul­tant Mary Lou Manlove makes it easy to under­stand what col­ors and clothes to choose, what works for you, and why. You'll feel more com­fort­able, look more cred­i­ble and be more con­fi­dent in every­thing you do. Mary Lou is an equal oppor­tu­ni­ty dress­er — if you wear clothes, she can help!

If you do not like the way your body looks in clothes, there is noth­ing wrong with your body. There is some­thing wrong with the clothes."
~ Car­la Math­is, author of
"The Tri­umph of Indi­vid­ual Style"
Call (650) 400‑2230, or click here to con­tact Mary Lou.