Revamp Your Wardrobe — Your Closet Will Thank You!
Life changes, your body changes and your goals do too. The Sea­sons change as well and your wardrobe needs to keep up. If you have had an ini­tial wardrobe makeover, this is a tune-up to help your style and your clos­et evolve. We can reassess your style goals, and re-focus your wardrobe to mas­ter the upcom­ing sea­son with col­or, style, and what-the-heck, a lit­tle Flair! Get ready to throw out the old and plan ahead for the upcom­ing events. Get new ideas and a fresh eye on your wardrobe. It is so hard to see your­self objec­tive­ly and you nev­er get a 360 degree view. I can help to get your sea­son­al clothes in shape.
In addi­tion to re-work­ing your cur­rent clothes we will cre­ate a shop­ping list for all of the must have cloth­ing and acces­sories to com­plete your look. Call to sched­ule your appoint­ment.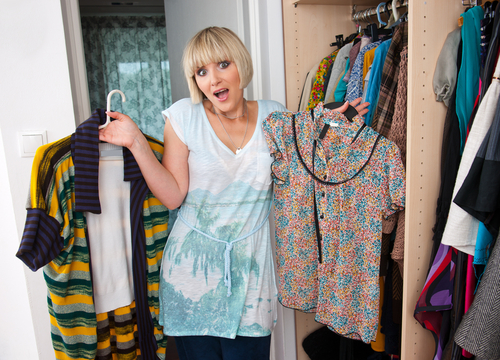 Call (650) 400‑2230, or click here to contact Mary Lou.