Title: Jew­el­ry Work­shop: Cre­ate Your "Sig­na­ture" Jew­el­ry
Loca­tion: Col­orIn­sight Stu­dio 10038 Orange Ave.
Cuper­ti­no, CA 95014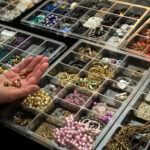 What is a "Signature" Piece of Jewelry?
It's jew­el­ry that is designed with your per­son­al best col­ors to com­ple­ment your hair, eyes and skin.
It's your go-to-jew­el­ry that you

KNOW

will work with any­thing and every­thing in your wardrobe.
It's jew­el­ry that looks and feels "Like Your True, Beau­ti­ful Self."
It's jew­el­ry that adds to your con­fi­dence in how you look.
It's what you wear when you want to get com­ple­ments!
In this half day, hands-on jew­el­ry work­shop you will learn to iden­ti­fy the col­ors, met­als, and style of jew­el­ry to high­light and cel­e­brate your intrin­sic beau­ty.
You will learn:
What jew­el­ry is right for you and why
What is the best neck­lace lengths and why
Col­ors and tex­tures that work with your nat­ur­al col­or­ing
Met­al or com­bi­na­tion of met­als that bring out your best
These design com­po­nents work togeth­er to cre­ate a bal­ance that express­es your per­son­al­i­ty and style. Gath­er your bro­ken or unused cos­tume jew­el­ry and remake them into some­thing you love to wear.
Your take away:
You will apply these prin­ci­ples to redesign the pieces of jew­el­ry that you have brought, or, you can trade with some­one else! We will help you re-make your jew­el­ry using your "Sig­na­ture" recipe for Bling! If you are not the "Crafty" type, ~ no wor­ries! You can design your new look and we can help you have it re-strung by a pro­fes­sion­al. I also pro­vide beads, and acces­sories to add to your pieces.
Put togeth­er your own group with 4–6 friends plus you. Your host­ess reward: par­tic­i­pate for free!
Con­tact us to reserve your date or look for the next sched­uled Jew­el­ry Work­shop at Col­orIn­sight Stu­dio!
Cost: $65 per per­son
Call (650) 400‑2230, or click here to con­tact Mary Lou.