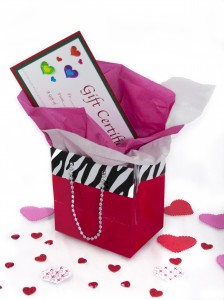 Give the gift of Col­or and do it with STYLE! Just in time for the Holidays…ColorInsight gift cer­tifi­cates can be used for any of my ser­vices:
Per­son­al Col­or Analy­sis With Per­son­al­ized
Shop­ping Fan

Suit­case MakeOver

Jew­el­ry Work­shops

Wardrobe Makeover

Per­son­al Shop­ping Ser­vices

Col­or and Style Class­es
Just a few hours with me will have your loved one see­ing her­self in a whole new light ~ a radi­ant, beau­ty-filled light. As a col­or and style con­sul­tant, I tell women that they are beau­ti­ful and I don't stop until they look and feel it! See your­self in a whole new light with Col­orIn­sight.
*Cer­tifi­cates come wrapped and ready to give. Call or Email me to place your order today! ~ Mary Lou
Call (650) 400‑2230, or click here to con­tact Mary Lou.