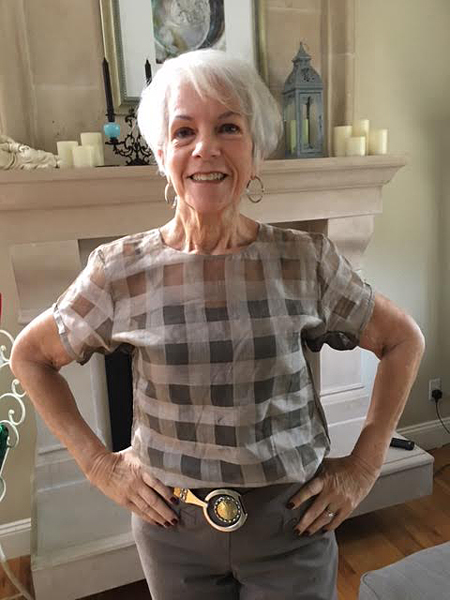 Client: Jean K
Occu­pa­tion: Per­son­al Orga­niz­er
Ser­vices:
Jean began her trans­for­ma­tion with a per­son­al col­or analy­sis. Her hair had been dark brown and she had recent­ly let her col­or turn its nat­ur­al light sil­ver gray. We iden­ti­fied the col­ors that went best with her hair, skin, and eyes, cre­at­ing a col­or fan to guide her cloth­ing and acces­so­ry selec­tions.
Jean was hav­ing trou­ble know­ing what to keep and what to let go of so we went through her wardrobe and weed­ed out what no longer worked for her and cre­at­ed new out­fits with the remain­ing cloth­ing. We cre­at­ed a shop­ping list of items acquire to give her the abil­i­ty to mix and match for greater ver­sa­til­i­ty.
Jean is a fast learn­er and she quick­ly picked up on how to use her fan to edit her wardrobe. She is also good at alter­ing cloth­ing so we next focused on which clothes should be altered to high­light her best fig­ure attrib­ut­es.
Chal­lenges:
Jean's shoul­ders are slight­ly small­er than her hips. We dis­cussed strate­gies for cre­at­ing bal­ance with­in her pro­por­tions.
Real Results: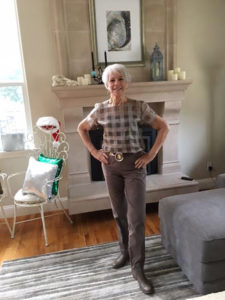 Tes­ti­mo­ni­al:
Hi Mary Lou, today I wore this blouse you gave me, remem­ber? I need­ed to put gus­sets in it because it was too small to get your arm in.

I want you to know I think of you often and it has final­ly become so easy to get dressed, to buy clothes, because I know the col­or and the style thanks to you.

Eliz­a­beth con­curs with me. We both ben­e­fit­ed so much from your help.

This is not the best pic­ture but I had to act on the thought. My mot­to is "done is bet­ter than per­fect."

God bless you and love, Jean K
Call (650) 400‑2230, or click here to con­tact Mary Lou.